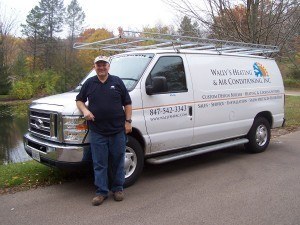 Wally's HVAC, Inc. was established in 1983. Wally's commercial service and installations spanned from St. Joseph, MI, to Rockford, IL, and Lake Geneva, WI, to Joliet, IL. His clientele included grocery store chains, churches, schools, and builders of new homes and townhomes throughout this area. He has also worked on fitness clubs and factories in Chicago and the suburbs. When Wally started his own business, he expanded into more residential work.
He found that many of his relatives, friends, neighbors, and business owners needed home equipment care and decided to focus on consumer education, maintenance, and HVAC air quality control. Wally enjoys developing custom designed systems for both commercial and residential applications, and takes challenging problems head on.
He has become most proficient in zoning systems, (both Hydronic and Forced Air), for maximum savings, temperature control, and comfort. (Hydronics include all hot water needs; boilers, chillers, baseboard heat, in-floor heat, snow melt systems, radiators, domestic water heaters, and other equipment.) In today's market, he has become familiar with the most efficient and clean equipment, Geo-Thermal and 'Green' products.
In 2014, due to increased demand for his services, Wally took on a business partner.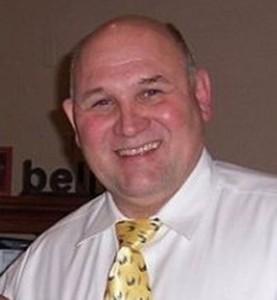 Rick Novak joined Wally as co-owner of the company. Rick and Wally have worked closely together on many projects over the past 9 years, and became close personal friends due to their shared interests, values, and work ethic. Rick has been in the HVAC industry since 1997, and in that time has worked on just about every type of equipment and system that exists in the residential and light to medium commercial markets. He spent the past 9+ years supervising a crew of 18 service and maintenance technicians for a very large local HVAC and warranty contractor, where he also was heavily involved in the design, sales, installation, and service of systems for new construction and replacement of existing equipment, as well as hands on service and training of technicians. From 1997 to 2005, Rick concentrated mostly on commercial, industrial, and institutional equipment and control systems. Prior to that, he spent 18 yrs. as Service Manager for a large local vending and electronic amusement company.
In summary, if it is experience you are looking for, Wally and Rick's combined total of over 60 years in the industry assures that when you call Wally's, you are dealing with seasoned professionals who will do the job right, no matter what it is.
Ethics
Wally and Rick have displayed integrity throughout their careers. Both have served on various ethics and safety committees for a large corporation. They have and continue to work closely with architects, builders, and other trades to insure a favorable end result on all projects they are involved in. "We assess each home or business as if it were our own, and look for quality products and solutions with a range of options, keeping the best interests of the consumer our primary concern. We also stay current on all rebates and tax credits available to the consumers and encourage them to take advantage of these added savings."
Education
Wally is a Pipe Fitter and Sheet Metal Journeyman. He believes in continuing education on all equipment so YOU are assured to receive quality, integrity, and a highly qualified HVAC expert working on your home or business.
Wally shares his education and has trained many apprentices and enjoys teaching others the trade. Several of Wally's employees were able to start their own businesses and Wally wishes them well and hopes they maintain the values he taught them with integrity and quality in their work.
Rick's education includes extensive training and hands-on experience in electronics technology. He also graduated at the top of his class from Environmental Technical Institute in 1990. He is NATE certified, has been factory certified on Carrier, Generac, Guardian, and Honeywell automatic standby generators, Mitsubishi mini-split a/c systems, and Carrier/Climatemaster Geo-Thermal Heat Pumps, to name a few. Rick has, and continues to attend industry-related technical and sales classes and seminars to keep up to date with the latest products and technology, as well as numerous college courses in business management.
Choices
Wally's will give you options; good, better, best; explain each product, giving you the chance to choose equipment to fit your needs and budget. He states "I believe in price matching and my work is guaranteed. Of course, estimates on new or replacement equipment are free. If you have any questions about your home, I'm here to help you."
Personal
Wally served as a Sergeant in the Unites States Marine Corps and received an honorable discharge. He is dedicated, 'married with children' and gives his family an exemplary work ethic. He is very active with his family, community, and church.
Rick is also a dedicated family man and resides with his wife and children in Hampshire. He is active in his Church and enjoys many hobbies and family activities in his spare time.
April 26, 2018
2023/09/26